| | | |
| --- | --- | --- |
| | | |
| | | | |
| --- | --- | --- | --- |
| Poster: | He Live's | Date: | Feb 8, 2009 1:17pm |
| Forum: | GratefulDead | Subject: | JERRY'S BEST LEADS |
of course jerry pretty much always played the lead. having made his mark, at least partly, by taking improvisation in rock and roll places it had never been before, or since, Jerry Garcia gets short shrift as a Lead Guitarist -- in that Jimmy Page, Eric Clapton sense. sure he may have never sculpted a lead part as indelible as say "Layla" -- an instantly recognizable, memorable guitar melody. but within the Grateful Dead framework he certainly made some strong efforts.
jerry remained true to his folksy roots, even during the heights of his deepest explorations. and what this entailed was a devotion to the basic elements of a song. on songs like "Stella Blue" and "Wharf Rat" the simple structure of the words and music, the trajectory of the song itself, define the guitar lines that jerry plays -- jerry plays lead guitar in these songs but there is not so much a "Lead Guitar Part" -- one that sort of "steps out" from the song. many of the band's songs work this way -- even on their most exploratory material, like "Playin in the Band" or "Dark Star" Jerry's lead parts are made up of the common melodies that the band passes around somewhat interchangeably. his "leads" are at their best, pure flights of unbridled innovation and at their worst, pointless noodling.
SO, what i am looking at here is Jerry's Best Leads -- places in songs where he plays a similar lines each time -- there may be elements of improvisation, but on these songs Jerry is clearly assuming the role of the functioning lead guitarist. (i am after the guitar part or strategy here, not any certain instances when he reached new heights through improvisation.)
ESTIMATED PROPHET -- it was most often on the Bob tunes that Jerry seems to have really "worked at" his guitar parts. what i am thinking about here is the bridge section which usually comes at about 3:30 into the song, after the "i call down thunder..." verse. i guess this is what i am after -- usually it is an inter-verse passage -- Jerry's best efforts here could be really uplifting.
12/28/78
SUGAR MAGNOLIA -- jerry sort of carried that chuck berry spirit like he aped so well in JBG into their own unique thing -- it's a mixture of chuck berry and bluegrass pickin taken up a notch. he doesn't have so much of a "part" carved out the way he does in EP but the flavor is the same every time -- the best versions ending with a wah-wah driven strumarific climax.
5/11/72
THE MUSIC NEVER STOPPED -- what can you say, another challenging bobby tune, so poor old jer is driven to create one of his most demanding parts, as he plays clean toned lead through the whole song, and still steps up to the mike for his woo-hoos.... the word "cascading" comes to mind, when during his most successful efforts sparkling silver notes light up like stars behind the vocalists -- (TMNS was the more succinct Crazy Fingers)
6/9/77
Jerry played some nice lead on his own tunes too of course,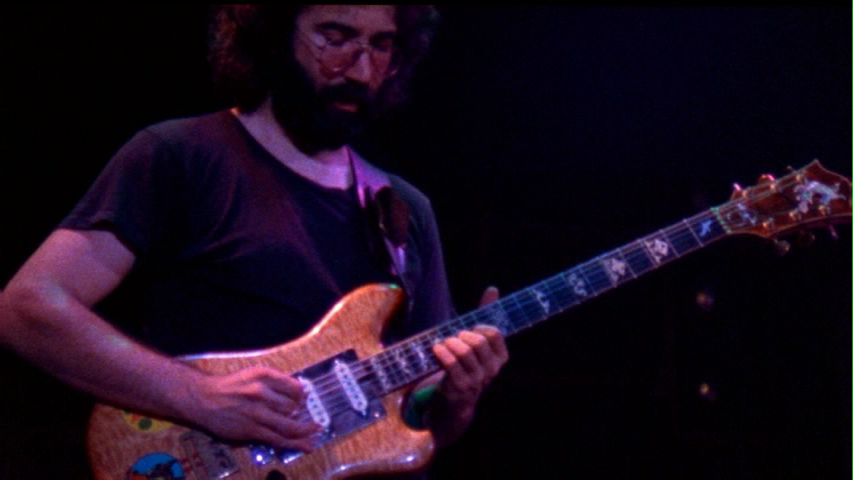 GOIN DOWN THE ROAD FEELIN BAD -- to me this is the quintessential jerry tune, both in the lyrics, the song and his lead guitar part -- full of endearing melody and feeling, he had a way of making it seem like the melody could spin out forever with endless variations in phrasing and tone,
11/15/71
ST STEPHEN -- what warms the hearts of devoted deadheads more than this serpentine masterpiece of a guitar line? distinctly Jerry Garcia, defiantly grateful dead -- one of the basic elements that formed the foundation of who this band was and is -- "one man gathers what another man spills." it's PSYCHEDELIC CASTLE MUSIC, it's infectious and gratifying, it is immediate and visceral.
4/28/71
UNCLE JOHN'S BAND -- this is just pure jerry, leading without leading. he is content to just let the song play itself -- the hidden gem of a lead part comes during the titanic ending jam, where Mr. Garcia transforms from storyteller to storming evangelist, all hinging on the whip of a line he uses to get the band moving in that ever so slightly darker direction, usually at about the 5:00 mark. OR, pick it up at the second half of the playin>ujb>dew>ujb>playin palindrome from
11/17/73
SUGAREE -- from its inception on 7/31/71 sugaree was one of jerry's best solo tunes. but after the break in 75 jerry brought sugaree back as a tour de force. it really showcases his ability to orchestrate the band and stands as a testament to his deep understanding of dynamics. deliberately over the course of 10, 15 or even 20 minutes jerry could go from a whisper to a roar and back again, in a very skilled direct manner, one of the finest example of Jerry as the lead player.
12/27/80
SCARLET BEGONIAS -- obviously, this is just an enormous success, one of jerry's best pairings of words and music. and what a nice guitar part he gave himself. similar to uncle john's, all he has to do here is follow the contour of the song he has crafted so beatifully and he almost always did so with aplomb. he very rarely ever fumbled scarlet, from the opening notes, every one knew it was a winner.
4/18/78
| | | | |
| --- | --- | --- | --- |
| Poster: | William Tell | Date: | Feb 8, 2009 4:10pm |
| Forum: | GratefulDead | Subject: | Re: JERRY'S BEST LEADS |
Outstanding my friend. Very good.
But, as I have bored one and all so many times before, there are TWO leads that prove Jerry's worth. Two that place him on the stage with Jimi, Eric and the handful of others.
These two are well know, but if you take the time to revisit them, you will realize, as I did, that you have listened so long to so many shows without really having heard the few that make him stand out from all the rest of his performances.
First, of course, is the OOne from 12-29-68. The energy there is simply unmatched in all other attempts at that song. Sure, some one that knows music might point to a lick much later, maybe even in 77, or perhaps a 78 JGB live show, or who knows what, in which he pulls off something that truly exlempifies musical genius. But nothing with touch this for a singular, absolutely amazing series of high octane notes, one after the other, revealing speed and sound production you never find again. Seriously.
Second, 6-14-68. Legendary, of course, both for the poor quality sound, but also for the start of the show (feedback), and the fantastic work Jerry does throughout. Listen to what sounds he produces during the Eleven. Sure, he misses a note or two, but clearly, follows them up with extra effort, as if self aware at the moment of his miscue. Listen to what he does with StSt, never to be done again. And, even the funky little LLight jam, 2-4 min mark, will knock your socks off.
These two shows, just these few segments (7 min of OOne, and then 4 min of FBack, and roughly 28 min of Eleven, StSt and Alligator-->LL) will show you something that you just won't find anywhere else. All the rest of what he did, as good and as more satisfying as it can be, pales. Seriously--all my other fav's just sort of run together and when trying to impress someone as to what set him apart, I always fall back to these two 68 shows.
Sorry, pretty predictable, eh? But, I would stake my ENTIRE collection on a wager that an objective listener could pick these two performances out of any TEN that we might all select as the best of the best for showcasing his abilities, and conclude that "yes, Jerry really was one of the all time great guitarists, and we've been wrong all along to place him among the lesser, idiosyncratic sorts deserving of attention only because of their accomplishments in a narrow genre."
Didn't mean to side track things here. Good contribution, HLives.
| | | | |
| --- | --- | --- | --- |
| Poster: | He Live's | Date: | Feb 8, 2009 6:24pm |
| Forum: | GratefulDead | Subject: | Re: JERRY'S BEST LEADS |
thanks... i know the show from 6/14/68, but i don't think i have checked out 12/29 -- i'll get on it!
| | | | |
| --- | --- | --- | --- |
| Poster: | elbow1126 | Date: | Feb 8, 2009 5:08pm |
| Forum: | GratefulDead | Subject: | Re: JERRY'S BEST LEADS |
If I understand your meaning I would look to Dark Star circa 68-69 when he returns to the DS theme a few minutes before the second set of lyrics. The guitar part that sounds like its singing "Dark Star crashes." Send chills up my spine every time.
I would also look to 1977 for Bertha. I took a while to warm up to '77 Berthas as I prefer the raw energy of Bertha in '71. However during his solo in '77 (and beyond) Jerry starts playing as if he is singing "Bertha don't ya come around here anymore." Lovely stuff.
| | | | |
| --- | --- | --- | --- |
| Poster: | Styrofoam Cueball | Date: | Feb 8, 2009 5:41pm |
| Forum: | GratefulDead | Subject: | Re: JERRY'S BEST LEADS |
Jerry often played the vocal melody line on the guitar, it's something I like that he does consistently. His solos on "Candyman" and "Loser" both echo his vocal line before going off to other realms... :)
| | | | |
| --- | --- | --- | --- |
| Poster: | William Tell | Date: | Feb 8, 2009 8:40pm |
| Forum: | GratefulDead | Subject: | Re: JERRY'S BEST LEADS |
No, only Peter Frampton does that. He's Alive, and I just realized the similarities in that and our poster friend.
BTW, that was a poor attempt at a joke and it just went south as I tried to make up for it so I'll stop.
| | | | |
| --- | --- | --- | --- |
| Poster: | He Live's | Date: | Feb 8, 2009 7:27pm |
| Forum: | GratefulDead | Subject: | Re: JERRY'S BEST LEADS |
yeah, i guess that is what i meant by "inter verse." because usually those sort of "internal jams" are what they are, "premeditated solos" -- and being such, they are full of premeditated lead lines. i am drawing a line between these sections and the more open-ended segments of songs, usually the ends, where, at times, anything could happen.
this is all academic of course -- and really, in the end, i am most attracted to those open-ended, anything goes parts. but listening to JERRY really tear it up on SAMSON & DELILAH or the big solo on ESTIMATED or LET IT GROW, take your pick.... when he nails those sections it really shows what a great, professional Lead Guitarist he could be in a more Rock & Roll sense.
on the big time, go for broke Jams, Dark Star, Playin, Caution, The Eleven, The Other One -- jerry played some of his best, most inventive lines -- but i don't think of him playing that Lead Guitarist role. during those songs he is something else entirely, profession goes out the window and Jerry Garcia was no longer just a musician playing a song, he was a Human Being striving toward an understanding of the universe and the meaning of life. (or soemthing)
i guess that is what i was thinking and why i didn't want to talk about these tunes too much. trying to keep it light!
cheers elbow
| | | | |
| --- | --- | --- | --- |
| Poster: | Arbuthnot | Date: | Feb 8, 2009 1:56pm |
| Forum: | GratefulDead | Subject: | Re: JERRY'S BEST LEADS |
another fantastic post HL, as per your usual; listening now to the 12/27/80
preferred AUD source
of Sugaree, and to me at least, it's a perfect example of ol' Jerry's particular genius, namely that he might not be the showman that Page (or for that matter Hendrix) was, nor even spoken of in the same breath as those and others, but the man had craft, he was all about the nuance and the subtleties of what could be wrung from his guitar; that in combination with by far the sweetest male vocals in rock & roll history (excepting Elvis), well, need i say more?
will get to your other samples anon ... and i know, it's going to make for one helluva pleasant evening!
| | | | |
| --- | --- | --- | --- |
| Poster: | pctcandp | Date: | Feb 9, 2009 6:06am |
| Forum: | GratefulDead | Subject: | Re: JERRY'S BEST LEADS |
My money's still on that Hard to Handle from the Hollywood Bowl.
| | | | |
| --- | --- | --- | --- |
| Poster: | William Tell | Date: | Feb 9, 2009 6:43am |
| Forum: | GratefulDead | Subject: | Re: JERRY'S BEST LEADS |
Yep; I find the above two shows to have they "whoa, what is that sound, how did he play that, and is he really playing that fast?" aspect...BUT, HtoH from 8-6 has the best, traditional, within the context of the song, but absolutely unreal buildup nonetheless thing going that makes it my fav on that level. Not to diminish it at all, just sorta more within the standard song jam that gets carried to perfection.
| | | | |
| --- | --- | --- | --- |
| Poster: | mcglone | Date: | Feb 9, 2009 7:08am |
| Forum: | GratefulDead | Subject: | Re: JERRY'S BEST LEADS |
WT! just felt like sharing... tried to hit arb with these 'deep/quebec/winter images in the wee hours sunday morning, but no luck...
hope you're well, brother.
ian
This post was modified by mcglone on 2009-02-09 15:08:13
Attachment:
teepee.jpg
Attachment:
bike.jpg
Attachment:
dogs.jpg
| | | | |
| --- | --- | --- | --- |
| Poster: | William Tell | Date: | Feb 9, 2009 7:41am |
| Forum: | GratefulDead | Subject: | Re: JERRY'S BEST LEADS |
Hey guy! Great to see you hereabouts! Love the dogs!
Yep, hanging in there myself. Hope all is going well with you too...guess those dogs are wondering if this Global Shit is working out or not.
| | | | |
| --- | --- | --- | --- |
| Poster: | direwolf0701 | Date: | Feb 9, 2009 7:56am |
| Forum: | GratefulDead | Subject: | Re: JERRY'S BEST LEADS |
it was about 4 degrees up here in vermont this morning. time to put on the damn bathing suit according the global warming fearmongers (whose number is shrinking every day in the scientific community)
last prognostication from atmosopheric science: the next ten years are gonna be colder than average. even hardcore environmentalists are backing off of the global warming scam - now moving more toward simple air quality issues (THAT i do buy)
Looks like Al Gore is gonna need a new "cause" soon since much of postulations have recently been debunked
| | | | |
| --- | --- | --- | --- |
| Poster: | direwolf0701 | Date: | Feb 9, 2009 8:00am |
| Forum: | GratefulDead | Subject: | Re: JERRY'S BEST LEADS |
love the bike photo ian :) not quite that bad in vermont thankfully.
(i dont think that bike is "feeling" the global warming - lol)
hope you are well my old friend!!